You can rent your own boat from the North Captivas' Boats and Fun area or charter a private boat to take you to one of the wonderful places listed. Just remember; always bring your sunscreen and an adventurous attitude. Golf cart rentals are available at Miller's Marina (941)964-2100. They accept credit cards and will provide you with an easy to follow map of Boca Grande.
Boca Grande
If you charter your own boat, you will want to make arrangements with Miller's Marina for docking (941)964-2100. There is a fee to dock your boat. You will need a golf cart to travel around Boca Grande. These can be easily rented at the marina. All major credit cards are accepted and they will provide you with an easy to follow map
History
Located on the Grand Barrier Island called Gasparilla, is a step back into "Old World" Florida, a carefully preserved part of Florida's history and beauty. Located on the Southwest coast of Florida, midway between Ft. Myers and Sarasota, Boca Grande is a retreat for tourists and fishermen.
Here you can find a wealth of unusual photographic opportunities, and shops, which offer unique treasures from around the world. Boca Grande is a quiet community, which seeks to protect its unique atmosphere and quality of life – the intangibles that make Boca Grande a very special place.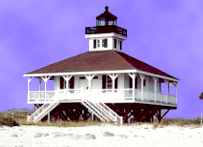 Tourism and fishing are the economic base on this tranquil seven mile long island that boasts no high rises and no traffic lights, a 104 year old lighthouse, and a street with 80 year old Banyan trees. Pristine white sand beaches stretch the entire Gulf side of the Island, while protected waterways weave in and around the natural mangrove shoreline along the bay side. Bordered by Charlotte Harbor and Gasparilla Sound on the east, boaters can explore 750,000 acres of estuary – where freshwater and saltwater blend to provide nurseries for the oceans fish species. Recreational boating and sailing are popular pastimes, whether on your own or by tour or charter. Dolphins, white pelicans, osprey, and manatees are only some of the unusual species you will encounter. Seven miles of wide, pristine, sugar white sand beaches offer shelling, swimming, and just plain relaxing. Even in the heat of summer, cooling westerly breezes provide welcome relief. Galleries present the works of local artists who have captured the spirit of Boca Grande in a multitude of media. Boca Grande restaurants each have their own unique style, featuring dishes made from the freshest local seafood as well as international specialties.
Southwest Florida has some of the best fishing in the world, and fishing is an important part of the industry and culture of Gasparilla Island. The Calusa Indians of centuries ago built a highly civilized culture based on fishing. The first white settlers of our area in the mid 1800's were fishermen from Cuba, Key West, and the Bahamas who created a profitable commercial fishing industry on Gasparilla and the surrounding islands. Around the turn of the century anglers began to discover the rich sport fishing potential of local waters, leading to a sport fishing industry, which makes Boca Grande a Mecca for anglers from all over the world.
Suggestion for dinning while at Boca Grande:
There are many fine places to dine while visiting Boca Grande. One our favorites is South Beach.
Travel in your golf cart to the South Beach Grille. The restaurant is located on the beach. The food is fabulous. Visit their website at www.southbeachgrille.com. South Beach Grill is about a 5 minute golf cart ride from Miller's marina. See map below: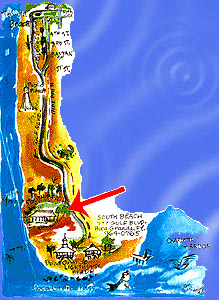 Don't forget to save room for ice cream at the Loose Caboose located on the main street in down town Boca Grande.
Enjoy your day at Boca Grande!
Cabbage Key
Charter or rent a boat to visit the historic Cabbage Key. Located in the Old House, our restaurant serves breakfast, lunch and dinner in two rooms. Our chefs prepare all meals in our kitchen from ingredients boated over daily. Fresh vegetables, the finest meats and local fish are complemented with breads and pastries from our ovens.
The main room is nestled among live oak trees dripping moss. Previous visitors have taped thousands of one-dollar bills to every surface. Ask your server for a marker and tape to add yours to the collection.
The front room is the old porch with a view of the marina and sound beyond. Look around at antique fishing gear, photographs of action on the water and replicas of tarpon, snook and other game fish that make our waters world famous.
DINING HOURS
Tel: (239) 283-2278
• BREAKFAST
7:30 to 9:00 Mon through Saturday
7:30 to 10:00 Sunday
• LUNCH
11:15 to 3:00 weekdays
11:15 to 4 Saturday
11:15 to 5:00 Sunday
• DINNER Average Price – $23.95
6:00 to 8:30 Mon. through Saturday evenings
6:00 to 7:00 Sunday evening
Full Bar
Wine List
Corkage Fee $15.00
Shrimp Plate available in the Bar between meals.
We do not have any fried foods, nor do we have a microwave.
Dining Room specials daily. Dinner offerings this year have included:
• Seafood Strudel, with crab, shrimp & scallops baked In Phyllo with Lobster Crème Sauce
• Grouper Tortuga – – Fresh Grouper, served on a bed of Spinach Fettuccine, topped with bacon bits, three cheeses
• Grouper, topped with Crabmeat, finished with Lobster Crème Sauce
• Sautéed Portobello Mushrooms, topped with Crabmeat
• Fresh Salmon with Szechuwan ground peppercorns, finished with Roasted Tomatillo Sauce